Le monde fabuleux de Zoya Gutina, qui est une artiste du tissage de perles inspirée par la nature. Les bijoux en photo dans cet article sont de cette artiste qui m'a permis de les publier sur le blog. Merci beaucoup Zoya !

Site : My Lovely Beads
Blog : Gem and Beaded Jewelry

La traduction viendra certainement bientôt, quand le temps m'accordera grâce.

The fabulous world of Zoya Gutina, who is a wonderful beading artist inspired by nature.
All article pictures came from Zoya herself, she allowed me to edit them for this blog. Thank you so much Zoya !

Zoya's website : My Lovely Beads
Zoya's blog : Gem and Beaded Jewelry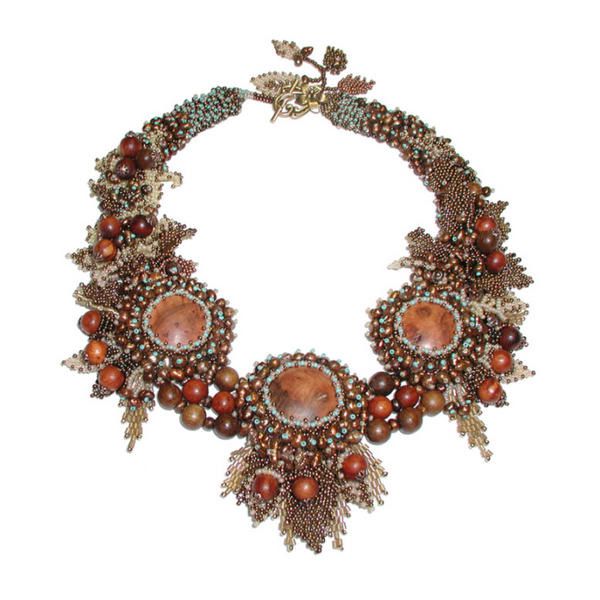 1. Zoya, when and how did you know beadwork?
I grew up in the USSR in the family loving all kind of crafts, and at the early age I learned sewing, knitting, crocheting, lace making, macrame. When I was 10, I was studying ballet, and needed a dress for practicing. A dress was sewn for me, but I decided to decorate it, and sewed a gentle beadwork flower onto my chest. The beads were a transparent yellow color, very pale, and the dress was of a cream-colored material. At that time I felt is was an appropriate combination, and I was right, the dress looked very pretty.

2. So, have you beaded since then?
No, for a long time I've done a lot of craftwork, but beading. I returned to beadwork about 7 years ago, when I already lived in New York City. Once a friend of mine from Russia showed me some samples of her beaded jewelry and presented three pieces to me. I was so impressed, that I decided to try beading again after my first attempts when I was a young girl.

3. Zoya, did you learn beading somewhere? How have you developed your skills?
After I made my decision to start over beading, I scurried around, trying to acquire everything about beadwork, but it turned out that too few books were available. I used any opportunity to learn beading technique, I have spent hours and days for that. Soon I started to experiment by myself, with beads of a whole range of various dimensions, and with gemstones. The experimentation started to bear fruit, there were my first serious efforts. But, of course, I'm still learning.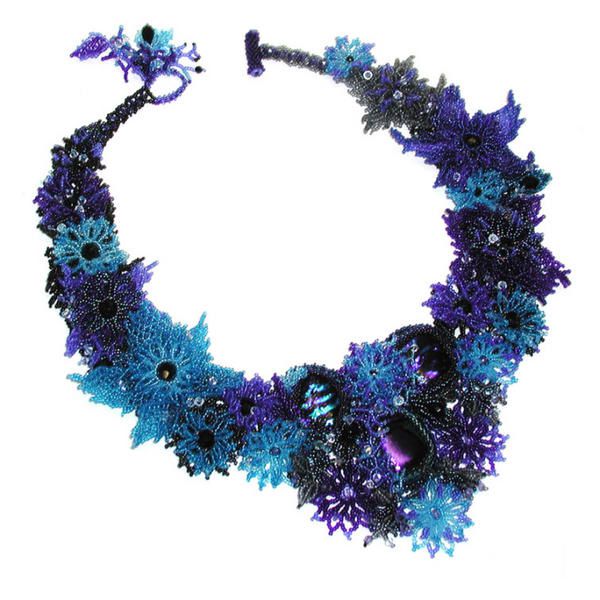 4. When did you sell your first piece of jewelry? Do you sell your jewelry now and where?
In 2003 I was invited to participate in selling my handicrafts at an art market in Manhattan and in some local gift shops in Brooklyn. It gave me a good feeling of encouragement, that my artifacts are desired and appreciated. Since 2006 I have been living in Alexandria, VA, a city rich in history, art, and culture. I exhibit my fine objects in the Potomac Craftsmen Gallery at the Torpedo Factory Art Center, you can find my gemstone and beaded jewelry in some art and jewelry stores in Washington Metropolitan Area. In January 2007 to extend my selling efforts I started my own small business - online custom gemstone and beaded jewelry store http://www.mylovelybeads.com .

This spring I won 2008 Annual Jury for Torpedo Factory Artist and became a member of this well known in Washington Metropolitan Area (and not only) Artist Association. Since June I have shared Studio 5 at the Torpedo Factory Art Center
( http://www.torpedofactory.org/artists/gutina_z.htm ), I can work there and sell my jewelry.


5. Zoya, what inspires you for your designs?
Inspirations for my designs come to me night and day. At night, when I close my eyes, fantastic colors and forms of my future efforts appear before me. Often, I cannot even find beads of those colors. During the day, images appear when I see flowering trees outside, or just flowers in the spring ; during the winter, geometric frozen shapes ; and then, both during sunrise and sunset.

6. Do you participate in any jewelry design contests?
Last year I decided to participate in beading contests and my first try was successful : my Aquamarine Morning and Amethyst Night Necklace won First Place in Glass Category of the Rings & Things "Your Designs Rock!" 2007 Jewelry Design Contest. Two more my creations were finalists of the Fire Mountain Gems and Beads 2006-2007 Beading Contest : Fall Rhapsody Set in the Jewelry Set Category and Butterfly Necklace in the Wearable Art Category.

This year is lucky for me : I again won First Place and Honorable Mention in the Rings & Things "Your Designs Rock!" 2008 Contest, made the final in the Wearable Expressions 2008, Bead Dreams 2008, and Fire Mountain Gems and Beads Contest. And the year is not over yet!
I perfectly understand that I need to learn more, and more, and more to create jewelry that can satisfy any choosy and picky customer, but I am an optimist and ready to work as much as it needs!