Voici quelques semaines, je me suis inscrite sur des forums anglophones de perles, et j'y ai découvert des artistes fabuleux.
La première artiste que je vous présente est

Billie Jean Little

, qui vit en France et fabrique des perles à la lampe.
Elle a bien voulu se prêter au jeu de l'interview et m'a permis d'illustrer l'article par ses photos de perles qu'elle fabrique.

A few weeks ago, I registered with some english speaking forums and I found some great beading artists.
I want to share with you their passion of beading, and part of their fabulous work.

The first artist I introduce you today is a lampwork beading artist living in France :

Billie Jean Little :


blog:
http://glassbybillie.blogspot.com/
flickr:
http://flickr.com/photos/beadsbybillie/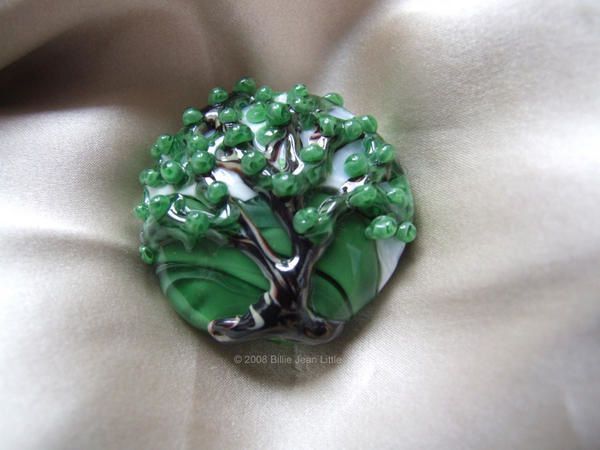 "How I first found beads

I am a full-time mother to two beautiful little girls, and after our second daughter was born wanted to find something to do in the evening, or for a few hours at weekends that would allow me some "me time." I've always looked for creative outlets and enjoy painting in oils and watercolours, sketching, photography, glass painting and have also previously done a little ceramic work and sculpting.

During the summer of 2006, while holidaying with my husbands parents, my father-in-law asked me if I would like to see him make a glass bead. So off we both went to the cellar one evening, and I watched over his should while he made a couple of beads. He asked me if I wanted a turn and I was intrigued, but slightly nervous and said yes. Taking a rod of glass, and melting the tip of it in a flame to begin winding the molten glass onto a mandrel is mesmerising and I was hooked immediately. As soon as we came back upstairs to the front room I told my husband I had found what I wanted to do!

My husband bought me a torch, tools and a batch of glass Christmas 2006 as a Christmas gift.

Why I have chosen this special technique


Each bead, once shaped, is a canvas waiting for decoration. Additionally, as each bead is handmade, no two are identical and a single bead can take from a few minutes to more than an hour to complete, depending on where my imagination takes me. I think this is why I and people in the lampworking community now describe what we do as "glass art".

My beads are inspired by every day things - the seasons, a piece of fabric that has caught my eye, colours in the sky, reading a story book or watching a film with my daughters and seeing a scene full of mystical creatures and their incredible colours…

Have I tried other techniques

I spent the first 12 month lampworking practising basics and familiarising myself with the effects of gravity, heat, and reaction of different glasses and colours. I am constantly learning, and feel my work is constantly evolving which is why lampwork is so addictive. Myself and many of the people I know in the lampworking community refer to it as "the dark side". This year, I will also be looking to work with precious metal clay (PMC) and explore mixed-media by incorporating this with my glass art. Next year I also want to learn the skill of electroplating, specifically organic objects such as leaves to introduce these items into a range of silver and glass jewellery.

What do I enjoy the most in my work ...

The possibilities of interpretation are endless and the real satisfaction is in knowing each bead has been made entirely by me."
blog:
http://glassbybillie.blogspot.com/
flickr:
http://flickr.com/photos/beadsbybillie/